ENJOYING LIFE
Nightlife...
The image of the nightlife of Ibiza has been something of an embarrassment for the island but is now valued as a distinctive attraction within the competitive international tourist sector. The music 'made in Ibiza' promotes the island especially well on an international level due to it being the vanguard of new musical tendencies. Our radio stations are a good example of this, like Ibiza Global Radio and Ibiza Sonica, which can be listened in live stream. Government bodies already seem to be catching on to this as we can see from the support that they have been giving to the 'Ibiza Music Island' program which promotes the 'Ibiza Music Cluster' and the disk jockey 'Ibiza International Music Summit'. Known years ago as people who simply played vinyl records publicly, they are now capable of attracting the masses. Many world renowned DJ's have their base here in Ibiza or allow themselves to be seen here as an invited artist since Ibiza is seen as an obligatory stop-gap on the international calendar. The most well known are the following: Carl Cox, Erick Morillo, Pete Tong, José Padilla, Fedde Le Grand, Sander Kleinenberg, Steve Angelo, Tiësto, Jordi Villalta, Sven Väth, Roger Sanchez and Danny Tenaglia are but a few of the international figures linked to Ibiza. Also we like to follow up and coming young DJ's like Felix JR, Efrain Navarro, Sergio Seratho, Massivan or Iñaki García. But not everything is house, techno or trance: let's not forget to mention the veteran Piti Urgell of 'Flower Power fame', who came up with the original concept.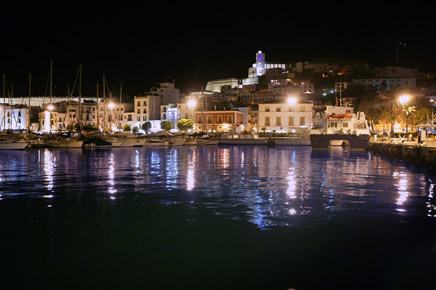 Furthermore, the 'Eivissa Jazz Festival' and the International Piano Competition for young talent in San Carlos de Peralta is something of an established annual event on an international level.
There are various establishments located throughout the island which offer good music such as Aura managed by Hayden, near to San Lorenzo (geared mainly toward an adult audience) or Grial (Andrés and Clarisa, two real benefactors and promoters of good music), or Km5 (so named for being 5 kilometres from Ibiza on the San José Road) which has become more and more sophisticated and with a high density of miniskirts per square metre.
If you prefer the type of music that is not so processed, then there are many bars that offer regular live music such as the marvellous Sansara which is on the way to San Carlos and is run by Ferdi and Cristian (phenomenal atmosphere, low-key bohemian establishment open all year and offering activities for kids on Sunday afternoon), the Chirincana in Es Canar (run by Philippe), Casa Colonial, Teatro Pereyra, etc. Santa Eulalia del Río is regaining its popularity as a lively town by night that it enjoyed some years ago (who cannot fail to remember those long nights at Sandy's bar) and thanks in part also to the art-café-lounge Namibia on the sea front, which is run by Toni and Ana, who have created an endearing place to spend amongst friends where there is live music every Friday and Saturday night throughout the year.
As far as nightclubs are concerned the most renowned are Amnesia (pioneer of foam parties and the alternative night out but now considered mainstream), Pacha (Ricardo Urgel is the patriarchal baron and Francisco Ferrer is responsible for artistry), Space (the increasingly popular afterhours place, which is run by Pere Roselló) and Privilege (defined by themselves as "the biggest club in the world"; but many of us still remember the irreplaceable 'KU' with nostalgia). As a discordant note, it must be said that while some nightclub parties are excellent others seem lacking in good taste and good ideas, having resorted to explicit pornography as the main line-up, we believe that this does nothing to favour the overall image of Ibiza. One other flashpoint is the question of the exorbitant prices for entrance and drinks without mentioning the 'auctions' on the private tables which are an object of desire for little rich boys wanting to show off, however, we do recognise that it is simply a question of supply and demand ! These clubs offer different rooms with different atmospheres, which is always an advantage. By the way, if you do not wish to look like a fish out of water you are not supposed to enter the clubs before 1 a.m. (thus it is written), unless you wish to arrive before madding crowd arrives of course. The all-powerful doormen (a profession whose image has greatly been enhanced) usually behave well and are good psychologists, some do even act like gentlemen.
Nightlife does go beyond the hustle and bustle of the clubs; for example, you may wish to begin at Café del Mar to see the setting sun in an almost atmosphere of worship to the cosmic sun, whilst the music pervades our senses. The streets of Ibiza Town are a real spectacle (or circus) at night due to the multicoloured set of personalities and sculptured figures that pass by, and a tremendous selection of bars from which to choose. Other options are the so called 'raves', organized in natural isolated places they can be quite fun as long as it doesn´t become a macro party since it is easy for things to get out of control (fire hazards, structural collapse, gatherings can last up to 2 or 3 days etc…) and whose organizers run the risk of considerable fines. Smaller gatherings on the beach or in the countryside amongst friends are also a great idea.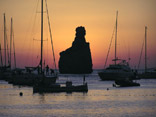 Furthermore, don´t miss the local celebrations or the 'Day of the Tourist' which are sometimes organized with an orquestra; they are really good and the atmosphere is salubrious to all types of folk: senior citizens, the young and grandpas and grandkids enjoying the festive spirit. Inform yourself about the dates since each town celebrates their own holiday which coincides with their own Patron Saint. The celebrations of Sant Joan de Labritja, for instance, combine a local old style orchestra with electronic music for youngsters. While 'orelletes' (a kind of sweet pastry tasting of cinnamon and shaped like ears, hence the name) are freely given away, the bonfires of the Ibicencan 'Nit de San Joan' are being hurdled by only the most daring. San Antonio also organizes its own 'Flower Power' celebration, which is an absolutely marvellous party.
Another interesting option is a full moon trek. Ask around as there are various amateur groups that organize them.
By Day…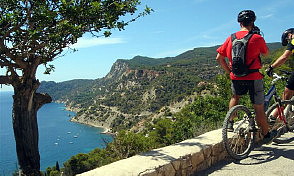 The possibilities are endless. For water sports and marine activities you have the following options: diving with tank or without, fishing, water-skiing, windsurfing, kitesurfing (in Cala Martina for example), boat hire, sailing schools, etc. There are also installations for the young who will surely love the waterparks.
One other possibility is an excursion by ferry from either Santa Eulalia or San Antonio (the departure place to the island of Es Vedrà) or even an excursion to see the sunset from the sea…
As far as land sports are concerned there is a wide selection: golf (Golf de Ibiza in Roca Llisa with 18 holes), climbing, road cycling (new bicycle lanes have been promised on some routes), mountain biking which offers fantastic trails officially marked, tennis, yoga, trekking and rambling, go-karts for kids, horse riding (there are many exercise rings around the island along with private classes and night outings, etc) and there are even chariot races at the Sant Rafael Hippodrome...
The are many more activities which will keep you entertained such as an excursion on the funny toutist trains which does seem to be a 'kid thing', but on which even we grown-ups have discovered hidden trails.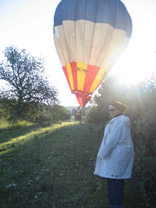 And if you don't want to keep your feet fixed firmly on the ground then how about a ride in José Ramon's hot-air balloon (if the point of departure is Santa Inés you will be in for an unforgettable treat as a witness to the flowering almond groves in February).
As we come back down to earth you will find many cultural activities on offer such as the excellent museums Museo de Arte Contemporáneo', the 'Museo Arqueológico', in Dalt Vila there is the 'Museo Diocesano Santa María de Ibiza y Formentera' located in the Catedral, also the 'Museo Puget', and the small 'Museo Barrau' of Santa Eulalia located in Puig de Missa. Numerous art galleries are spread throughout Ibiza: 'Via 2' (managed by Antonio Torres), the 'Sala Cultural de Sa Nostra' in Aragón street in Ibiza, the 'Centro Sociocultural S'Alamera' by the Town Hall of Ibiza, located in Vara de Rey and managed by Lina Sansano and her endearing assistant Goretti, Galería Berri in San Agustím, Can Daifa (run by Doris) in Santa Gertrudis, Es Molí (Joël) roughly in the same area, Cascais in Hotel Tres Torres of Santa Eulalia and Espacio Micus near Ibiza (fantastic masterpieces set in a perfect interior, open on Saturday mornings).
It is highly recommended that you pay a visit to the pearls of our architectural heritage made up of the many Churches if Ibiza, which lead to centre of the island's towns. If you wish to delve into the ancestral traditions of Ibiza you will find many ethnological museums such as the museum located in Puig de Missa of Santa Eulalia and the one in San Carlos managed by Miguel Torres situated in an authentic country house oozing with history where many a bottle of olive oil has been produced, this perfectly preserved country house is a living testament to the self sufficient spirit of the people of an age gone by.
You can also choose between concerts and theatre with wide ranging performances in summer and winter, something unthinkable in Ibiza a couple of decades ago: Palacio de Congresos de Ibiza in Santa Eulalia, Can Ventosa and Cas Serres, both located in Ibiza…