SHOPPING FEVER
The Must-Have
Apart from the Ibicencan culinary masterpieces that we have just outlined, you must never forget to take some local treasure home with you. Those made by Hierbas de Ibiza Perfumes are indispensable: its inimitable masterpiece is 'Agua de Colonia Fresca', an Eau de Cologne whose luxury fragrance completes a line of products including Bath Salts (from the salt flats of Ibiza), Shower Gel, Moisturing Body Balm, Tablet Soap and Solid Perfume complete with a numbered silver presentation case: these must-have products are found not only in Ibiza but also in the coolest boutiques throughout the world (New York, Milan, London, Tokyo...). As well as an aromatic masterpiece, you may also wish to take home with you a silversmith masterpiece from which you have various choices such as the creations from Majoral or Pure From. Perhaps you prefer a handcrafted jewel such as a unique piece of jewellery available produced by numerous resident artisans who also produce leather goods, musical instruments, ceramic ware (many following the trail of the master Joan Daifa), etc…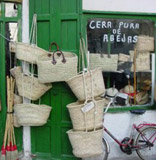 Of course, we cannot forget the traditional Ibicencan basket, the simplicity of which is the secret to its elegance. The typical Ibicencan espadrille made with esparto grass is another relic from the past, the production of which had almost been forgotten yet revived by many young artisans ready and willing to learn the art; the production of this piece of workmanship may take months and consequently is not the most profitable endeavour for the artisan.
There is an abundance of interesting shops, but in Ibiza town you mustn't forget to visit Montgríssimo managed by Claude, with a wide range of accessories and handicrafts. Also worth a mention, La Casita Ibicenca (local fare selected by the extravagant Snakeman), Galería Tanit and Torre Tanit (silverware, accessories and precious stones). Traveling to San Miguel you will find Sluiz which is situated a couple of kilometres from Santa Gertrudis and sells original items for the home; also Grass Live & More, a concept store where you will surely be able to find that fashionable item which will become most indispensable later on. In the village of San Josep is Ca Vostra where you will discover a selection of objects for decoration or personal use, some of which are locally produced. The boutique Aurobelle in Santa Gertrudis resembles a bazaar replete with charming objects and delightful dresses designed by the owner – Jane Naeke. In San Antonio the boutique Tuck Complementos has a wide selection of interesting products.
If you are an art lover, you should know that Ibiza has been home to many great artists, many of which relate that this Mediterranean light is unique. For this reason it wouldn´t be a bad idea to acquire a painting or sculpture produced by the Ibicencan artists, whether they be true Ibicencos or have been adopted by the island itself, the most acclaimed are as follows: Narciso Puget Viñas (oils), his son Puget Riquer (water colours), Ferrer Guasch, Vicent Calbet, Antoni Marí Ribas "Portmany", Laureano Barrau, Eduard Micus, Marcel Floris, Elmir de Hory, Steve Ericsson "Steve II", Barry Flanagan, Antonio Pomar, Kennedy, Rafeael Tur Costa "Gabrielet", Pele Torres, Erwin Bechtold... and the up and coming Carles Guasch, Villanueva, William Fulljames, Adolf Aymat, Daniel Marí Planells, Alfonso Fornes (artisitc photografer), Rafael Alcántara, Sergio Ferrero, Bettina Dyhringer, Roger Dixon, Rafael Bujanda, David Aguilera, Mario Stafforini, Guillermo Fornes, Jesús Albarrán... Another charming and attractive option would be to visit the artist in their own environment or workshop: thanks to the Ruta del Arte, Arte' some of them open up their doors. The aforementioned artists' club was conceived in 2003 by the sculptor Jacques Guérin, a great person and artist who still evokes fond memories in those of us who had the pleasure of meeting him.
Fashion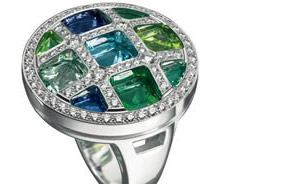 As a point of reference in the fashion world, the streets of Ibiza demonstrate that the island is the vanguard in international trends, which are subsequently copied throughout the world. Ibiza has always been a pioneer in all things related to fashion, perhaps it has something to do with that air of transgression that everyone can dress in whatever way they see fit (or even undress in complete comfort) without running the risk of someone wagging their finger. One telling phrase coined by princess Smilja the founder of the Adlib fashion line goes – "dress how you wish, but do it with style".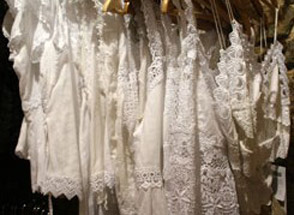 The company 'Adlib' is one of those iconic fashion vanguards whose beginnings date back to the 'Golden Age' of fashion in Ibiza before the whole thing became constrained and hijacked by public bodies. Whether this is true or not, their dresses made of white cotton continue to be ubiquitous in Ibiza, although the melting pot of a cosmopolitan Ibiza is still flexible enough to allow a wide range and array of styles from which you have come to expect from this Mediterranean capital of fashion.
The following are some of the fashion boutiques that Ibiza has to offer: Cantonada (white dresses designed by Teresa Bermejo herself, and much more), Arias (well known labels such as Gucci, D&G, Dior, etc) and Malibú, which offers an excellent selection from the enchanting Lily, located in the port of Marina Botafoch. Custo Barcelona stands out as a 'fashion' shop, which has triumphed throughout half the world, with an outlet in Ibiza as one of their more creative epicentres.
In San Antonio the boutique Pandora (run by María, Judith and the ever lovely Lina) has been around for a lifetime and has been witness to the changing face of Ibiza.
In Sant Carles de Peralta the long standing boutique Papillon (run by Anna and now her son José) is one of the best places you can dress up 'Ibiza style'.
The flea markets are another interesting option since you will be able to find all manner of exotic and handcrafted items unavailable in the mainline fashion industry and the big cities: Las Dalias (don't forget to try their natural fruit juices) is open on Saturday and Monday night, and the one in Es Caná is open on Wednesday (where you can arrive by boat from Santa Eulalia if you so desire), the Hipódromo de Sant Jordi or the recently inaugurated market in Cala Llenya (Sundays) is frequented by many residents especially in winter in order to haggle, find a bargain or simply to pass the time.