THE ENCHANTING SEA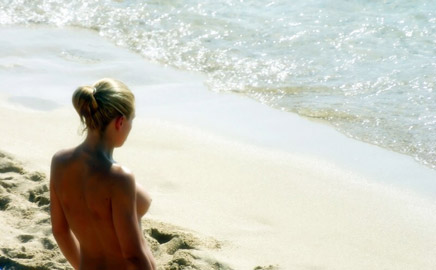 The beaches of Ibiza are the most breathtaking attraction on the island. Not only are there beaches but also small forgotten coves and rocky inlets where you can sense the wonders of complete and utter isolation. There are beaches for everyone, with or without beach bars, beach beds with beach umbrellas, showers, blue flag rated, pebbled or sandy beaches. Since this is an island made especially for man, we have the advantage of avoiding the wind by going to that side of the island where there is less of it. Some beaches are only accessible by boat. Slowly but surely you will discover that place of paradise which you will make your own. For other beaches if you want to avoid the masses the best thing is to go in the evening or set the alarm clock for an early morning swim, disappearing when the sun begins to get too hot.
It may be useful when preparing your holiday to check out Google Maps or SigPac of the Spanish Marine and Environmental Agency, whose satellite photos have a lower definition yet show a more detailed survey area with respect to paths and trails. Please respect our natural environment remembering always to take empty cartons and rubbish with you…
East Coast, great beaches
Let's begin our journey from the south at the famous beach Las Salinas, ('Malibú' and the party bar 'Sa Trinxa' are the places to be for the 'in crowd'). Es Cavallet is just next door, with its long strip of beach it has a gay area included in the southern most part from where the incessant coming and going of maritime traffic between Ibiza and Formentera can be seen. Playa d'en Bossa continues to be a favourite for the masses, it is a beach dominated by hotels and located under the flight path of incoming aircraft. However, just recently there have opened a number of tidy beach bars and restaurants which has done much to improve the overall image of the area. Talamanca is located to the north of Ibiza Town just after the yachting harbour of Marina Botafoch and is a nice place frequented often by residents of Ibiza Town. Cala Llonga is a peculiar long bay from which it takes its name and which is surrounded by mountains of pine trees. The beach of Santa Eulalia is rather nice considering its proximity to the port and town. Where the river flows into the sea you will find the typical sun loungers and beach umbrellas for hire. At the north of Santa Eulalia there is the beach Cala Pada (a club frequented mostly by Germans is just next door), Cala Martina (on windy days frequented by numerous kite surfers), Es Canar (well looked after due to its proximity to the hotels), Cala Nova (with various smaller inlets close by is perfect for non-windy days), Cala Llenya (wide and sandy beach with large waves), and Cala Boix (access by steps to an undeveloped natural area, with naturally occurring grey sand). Further north, just past the island of Tagomago the best beaches are the following: Es Figueral (with a holiday club just next door), Aigües Blanques (nudist beach with different zones in which non-nudists are also welcome if one's desire is not to bare all), and Cala San Vicente.
East Coast, coves or rocks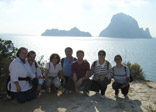 Between Ibiza and Santa Eulalia there is a cove frequented by few people –Cala Olivera– with a small beach and also a flat rock area for sunbathing: to get there go past Golf de Ibiza and go through the private housing estate of Roca Llisa whose security control will allow you access. Next to Cala Llonga lies Sol d'en Serra, a large bay almost untouched with pebble and small rocks. Between Santa Eulalia and Es Canar is Es Niu Blau, a curious beach adorned with pine trees offering natural shade for bathers, rather useful for those wishing to avoid looking like a tomato. Cala Mastella is a wonderful cove, where you can easily get to by car and yet is frequented by few people. The Pou d'es Lleó also boasts charming spots such as the rocky area by the old fisherman's huts located at either side of the beach.
At the northern end of the beach Es Figueral there is the abandoned lighthouse of Punta Grossa with various coves dotted around allowing access only by sea. From the housing estate 'Allà Dins', also at the north of Es Figueral, there is a path of some kilometres where you can arrive to Ses Formigues. On the road between Es Figueral and San Vicenç de Sa Cala there is a car park from where you can walk to the cave of Es Culleram (which we have included even though it is not at sea level), an ancestral place of worship to the Phoenician goddess Tanit. From the village of Sant Vicent de Sa Cala there is a road which leads to Port de ses Caletes, a small cove which is adequate for those who like snorkelling. Moreover, from Portinatx there is a road from the east which takes us to Cala d'en Serra which has rather a calm sea due to its enclosed space, with the only disadvantage that there is a half finished concrete building next to the car park.
West Coast, great beaches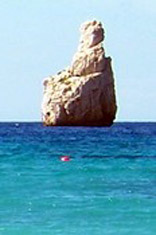 There are so many that we can only mention a few. Cala Jondal is a feature in many articles concerning Ibiza; it is not, however, one of the nicest places due to the lack of sand and abundance of large round stones. Another great beach, although with many buildings and adjacent hotels, is Cala Vadella. Cala d'Hort has a great attraction in the island of Es Vedrà, which dominates the view from the beach. In the north of the island the beaches 'par excellence' are Portinatx and the beach of Puerto de San Miguel, both of which are well equipped. The coves around the Calas de Compte area and the numerous hidden spots are preferred by the local Ibicencans thanks to the crystalline turquoise waters such as those in Formentera. And finally Cala Benirràs, a mystic beach characterized by a rocky outcrop overlooking the sea and where drums can be heard during sunset.
West Coast, coves or rocks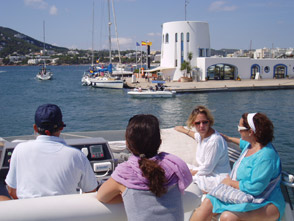 The west coast is quite different and relatively undeveloped in the northern area, which favours the many small coves and rocky inlets that exist and that sometimes can be accessed by car or by going with someone who has knowledge of their whereabouts. We really love Es Xarco, with its natural shade from pine trees, and also the adjacent Porroig, a large bay in the form of a keyhole where, if you investigate, you will find an underwater passageway next to a small cave; perfect for undertaking a small initial aquatic journey. Below the village of Es Cubells you will find a cove by the same name which is hardly ever overcrowded. It is also known as Ses Boques where you can arrive via an asphalted path beginning at the church. Further to the south, there is the remote and enchanting cove of Cala Llentrisca which is flanked by two sets of fisherman's huts and can be reached by following the relevant symbols on the linked map. Another recommendable outing (perhaps advisable during the early morning or evening due to the gradient of the climb) is the slope leading to the rocks known as 'Atlantis' due to cube like shapes of the rock (an ex-quarry) and a small cave just before the sand dunes where a picture of the Hindu goddess Vishnu adorns the entrance; legend has it that a Japanese visitor painted it in gratitude for having achieved in that very spot the mystic experience of enlightenment. A couple of kilometres from San Antonio we find the famous platforms of Punta Sa Galera, an alternative nudist area where you can arrive by car passing through a private estate which is legally obliged to allow you through. Continuing by car we leave the Calas de Compte (fantastic water in turquoise blue) and arrive at a levelled area where there is stairway to the fisherman's huts protected by a spectacular arch made from natural stone which makes it a truly unique spot (follow the map). Further to the north the remote S'Hort d'es Baladres with jetties and some sand is accessed via a torrent beginning at the village of Santa Inés (ask for directions); you will need to be quite skilful to negotiate the climb, and so sufferers of vertigo are recommended not to try it. To the north-east of Santa Inés you will find access to the small cove of Cala Sardina which will take you about an hour by foot and therefore suitable for amateur walkers. Around San Mateo there is Cala d'Aubarca (or Cala d'Albarcar) which has a spectacular bridge made from extraordinary natural stone. There is a path to this cove which is only accessible with a 4x4 so better to go by foot.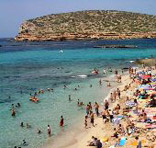 Some 4 km to the west of San Miguel lies Es Portixol, a spectacular cove in the shape of a closed horseshoe that can seem like a lake depending on where you are standing; after leaving your car at the Illa Blanca housing estate, you will be able to access the cove via a 30-minute trail that runs parallel to the sea and that leads down to numerous fisherman's huts. From the port of San Miguel there is a trail on the left hand side that will take you to Cala des Moltons in 5 minutes where you will find a charming spot and will make you wonder why people prefer the overcrowding on the beach of San Miguel. Before arriving at Cala Xarraca, if you take a left you will find yourself in Caló des Porcs (or Caló de ses Porres), with crystalline water it is a favourite spot for diving as well as a peaceful place and is a protected area as far as its nature is concerned. A couple of kilometres onwards you will arrive at Es Caló de s'Illa (10 or 20 minutes to the beach depending on where you park) where you will not find any sun beds, beach bars or other amenities. However, you will be so thrilled by such a natural beauty spot that you will want to spend all day in its awesome splendour.