ACCOMMODATION
A place of refuge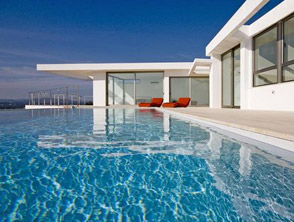 Since the boom of the 70's tourist accommodation has changed much according to diverging tendencies and tastes of visitors. Services have been improving more and more, the marketing axel of 'sun' and 'beach' is no longer enough. As well as a good welcome and amiability, today's visitor requires comfort, good service and serenity. All that seeks to relieve the visitor of his day-to-day burden is welcome. Ibiza offers a great variety of accommodation capable of satisfying all tastes: from the urban to the coastal hotel, from the 5 star to the charming rural hotel, from a rented rural villa in the countryside to a luxurious apartment with sea views. We cannot name them all, but we do know personally all those that are mentioned here and therefore they come heartily recommended.
Of course, you wish to be as well treated as any other visitor: in the words of the charismatic tourist expert Mr. Ernesto Ramón Fajarnés "denying the tourist anything other than amiable treatment after eleven and a half months of arduous toil at work is barely forgivable". Please permit us to add as an anecdote for our readers: we have nothing against statues of buddhas, but the use and abuse of this as a decorative element has begun to saturate our line of sight…Please remember we are in Ibiza and not Bangkok!
Rural Hotels
First on the agenda are the Villa Roca and Villa Rica mansions, these little known private villas are found in the little black book of many VIP and celebrities due to their exclusive nature and their privacy. At Harissa Ibiza, International Villas, Villa Rental Ibiza or Dream Village you'll also find many other luxurious interesting options. With regard to rural hotels, in San Rafael we have Can Lluc run by Lluc himself with his charming and hospitable family. Also recommendable is Can Parramata near Santa Eulalia that is joyfully run by brother and sister Sergio and Adriadna. Es Cucons is an old farmhouse nestled in the vast almond plains of Santa Inés which has been refurbished and converted into an oasis of serenity by the very hospitable Barbara. In the West, we also like Ses Pitreras and the Ibiza Rocks House at the legendary Pike's Hotel. In the centre of the island Can Guillem is also an old farmhouse, remodeled according to the good taste of its owner Vicente. Near Ibiza Town in Puig de'n Valls the hotels Can Jaume and Can Arabí come highly recommended. Another possible option is Can Talaias situated in the hills of San Carlos where Cushan (son of famous British actor Terry Thomas) and Laetitia, who were the first pioneers of rural tourism in Ibiza, will treat you as royalty in a manner fitting to the island's lifestyle. Nearby there is also Can Curreu run by Vicente Marí boasting a recently opened spa and is situated above Las Dalias. We also like the contemporary boutique hotel Ses Pitreras in the West. And for sure, the delightful Can Domo not far from the golf courses.
Various rural touristic hotels and rural farmhouses which have left us spellbound are found in the municipality of San Juan de Labritja (Ibiza Rural Hotels or Guía del Ayuntamiento de Sant Joan) that great unspoilt spiritual reserve, where mere mortals are able to find their bearings in the great cosmos. Amongst them is Can Gall managed by Santi and family, a true dwelling of peace and sparing no luxurious detail; Santi is a young entrepreneur and a 'thoroughbred' ibicenco who delights in treating the guest as royalty. Can Escandell is also an old farmhouse without any nonsense where Toni Escandell will make you forget the big city and your winter long johns. In like manner, Atzaró is well situated: managed by a young team it appeals to those visitors who require a certain ambience and an impeccable spa & beauty wellness center. Let's not forget to mention Can Fuster in the village of San Juan, Can Maries overlooking the port of San Miguel, and Casa Naya in San Lorenzo.
High quality hotels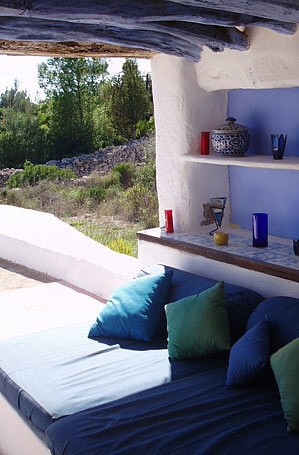 In Ibiza town, next to the port there is the majestic Ibiza Gran Hotel facing the unmistakeable old town of Dalt Vila. A 5 star hotel with full services, a health spa and amenities which are fitting for an establishment of its grandeur, it is managed by the young and talented Raúl Sierra.
Located in the heart of Ibiza next to the town hall and just below the cathedral is a unique and recently restored building, which is now a 5 star Relais & Châteaux hotel -Mirador de Dalt Vila- managed by Ángel. And near the cathedral, a building from the 14th century is now the exceptional La Torre del Canónigo. Yet another option is the functional 4 star Royal Plaza, conveniently located and managed by Mr. José Colomar, a professional with a long career in the industry. Located in Talamanca near to Ibiza Town is the 4 star Hotel Simbad recently refurbished and professionally run by the ever helpful Juan Riera, this establishment is a great choice to spend a few days. For those who want a blend of luxury, tranquillity and well-being, there is the long standing 5 star Hotel Hacienda located in San Miguel de Balanzat, boasting spectacular views it is run by the Lipszyc family who have resided on the islands for many years. And let us not forget the Hotel Tres Torres overlooking the port in Santa Eulalia, a long standing hotel founded by the Torres Roig brothers and whose history is legendary amongst those visitors who have had the privilege to witness the beginnings of tourism in Ibiza. Also near to the port in Santa Eulalia is the Aguas de Ibiza, built by a local family and boasting a cocktail bar on the roof as its main endearing quality. In Playa d'en Bossa we are seduced by the youthful modernity of the Hotel Garbi; their new stunning suites are able to outshine many other 5 star!
Alternatives
One good option for those who prefer self-catering hotels is the Duquesa Playa in Santa Eulalia owned by the Clapés family. In this village there is also a discreet and economic hostal, the delightful Cas Català, founded by Jim and Malcolm and run by their family. By the way, one great place to spend a few days is the Pensión Pou des Lleó, a simple accommodation where you can enjoy a huge restaurant with a real family atmosphere run by local Ibicencos. Whilst on the subject of simple accommodation let's not forget to mention the Carmelite Missioneries of the convent of Es Cubells for those who wish to recharge their spiritual energy or simply seek refuge from worldly responsibilities; it is a very spartan place yet engendering a touch of the authentic.